Oak Manor
Located at 271 Main Street in Antigonish, Nova Scotia
Officially opening in July 2021, Oak Manor Beer Store & Tap Room is a warm, cozy space with seating for 65 featuring a Rooftop Patio in the summer months.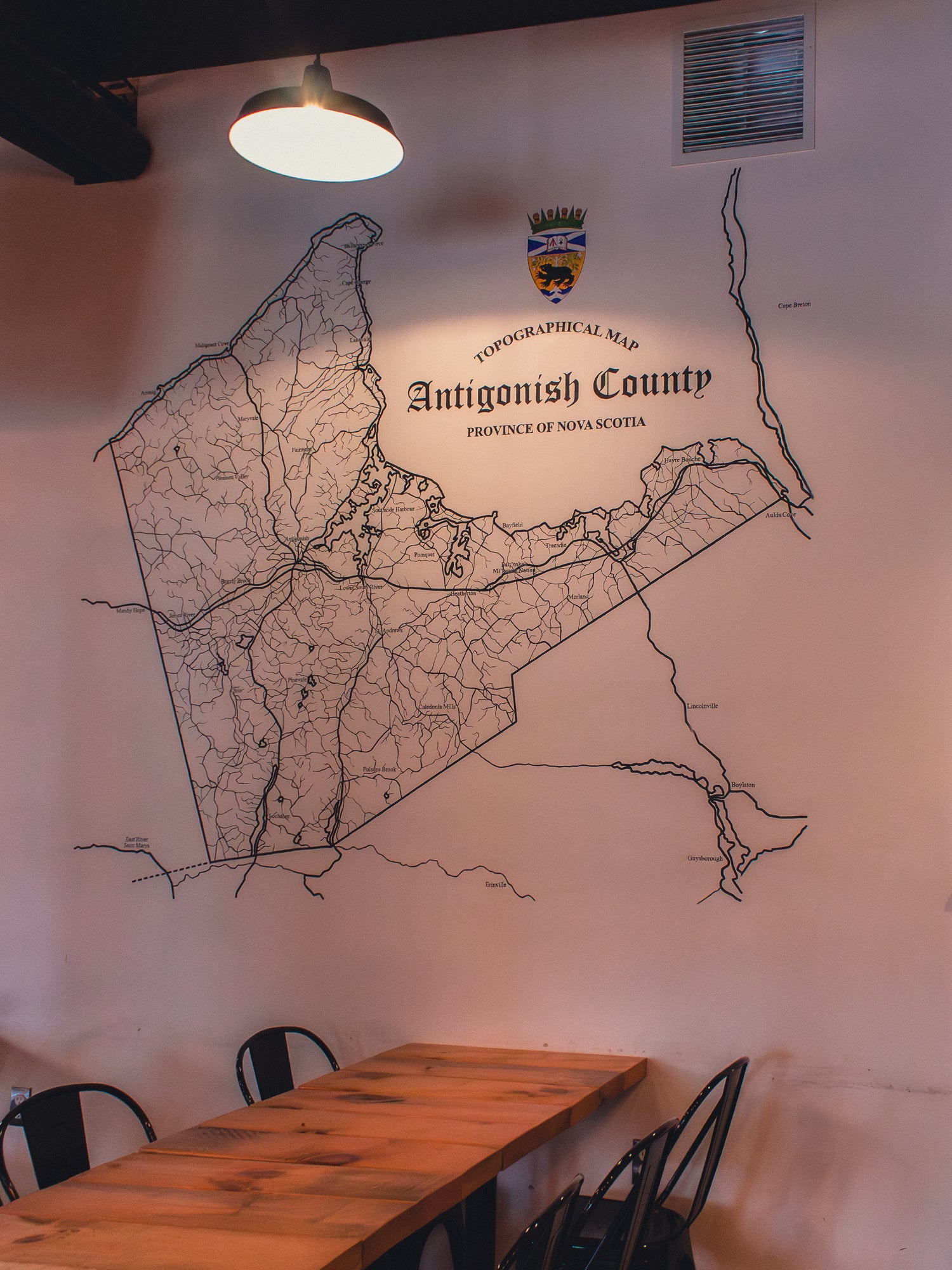 About Oak Manor
Oak Manor is a name that means a lot to the town of Antigonish and we are proud to be honouring its heritage. We were able to preserve some of the original woodwork and the crew at Caper Developments did an amazing job maintaining a lot of the original look and feel of Oak Manor Menswear, which operated in the space from 1963 until 2019.
Weekly Events
Industry Night

Every Monday, food and beverage industry workers can enjoy $5 pints of beer and $6 pints of cider.

Toller Tuesday

Every Tuesday, $1 from every Toller pint sold is donated to the Nova Scotia SPCA.

Toller Trivia

Twice a month, join us for Toller Tuesday Trivia! Starting at 7pm and hosted by Greg Ross, teams can win a $100 gift card for Burnside Brewing Company. Theme & dates is posted on our social media.

Live Music

Most Wednesday & Saturday evenings, you can visit Oak Manor and listen to local talent and musicians from across Nova Scotia. Schedule is posted weekly on our social media.

Open Mic Night

Once a month, we open up the floor to you, Antigonish! Please arrive early and with your own instrument if you would like to play a tune. Date is posted on our social media.

Thirsty Thursday

Every Thursday, visit us for $1 off grunter fills and $2 off growler fills! Our tap list is posted on our social media.
Taproom & Beer Store
Stop in for a cold pint of our core lineup or try a limited release while you can! If you don't have time for a pint, you can stock up on some fantastic merchandise, grab a growler or purchase beer to go in our full service beer store.
Join the Oak Manor Pick'Em Pool!
How it Works

Each Monday, individuals will be able to come in during business hours to purchase their sheet. Participants must return their sheet before the Sunday game of that current week for their picks to be counted. There is no obligation to participate every week, join in on the fun when you can! The person with the most correct picks will win the pot.
Rules to Follow

You must pay the $5 entry fee before you receive your pick'em sheet.

There will be no refunds on late submissions.

In the event of a tie, the points total for the last game on the sheet will determine the winner. If there is still a tie, the pot will be split.

Any scheduling errors, forfeits, etc., will result in 1 point for everyone.

You MUST be 19+ to participate.
Reach out to Management

Have questions? Reach out to Kohlin at kohlin.rasenberg@burnsidebrewing.com